A rich and fudgy chocolate banana bread that is the perfect balance of chocolate and banana. What breakfast dreams are made of.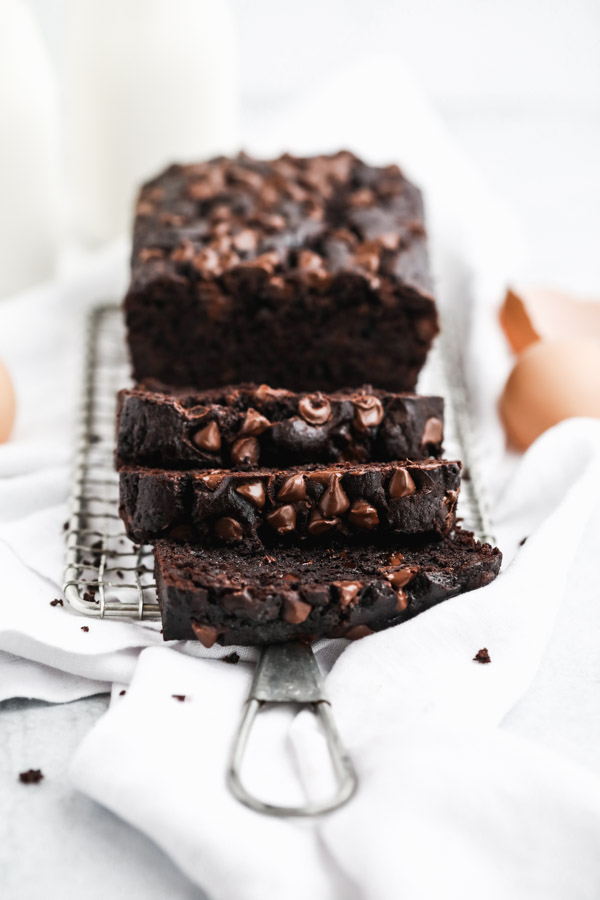 I'm pretty sure I was a monkey in my past life because I loooveeee bananas!! Like I'm bananas for bananas! I have one nearly every morning for breakfast and it's been a habit for as long as I can remember. Good thing they are chock full of potassium and lots of other good for you nutrients. I know, I know. You're thinking this banana bread looks pretty darn rich and fudgy and surely she doesn't eat this for breakfast. Let's get one thing straight. This is breakfast food. Don't try to convince me otherwise.
It's made with two whole bananas which is fruit and fruit counts as breakfast. Also, there's a generous dollop of greek yogurt in the recipe so if you really think about it, it's basically health food.
Okay, maybe that's a bit of a stretch but at the very least you can file this recipe under my favorite category…"breakfast that doubles as dessert".
Mmmkay? We good??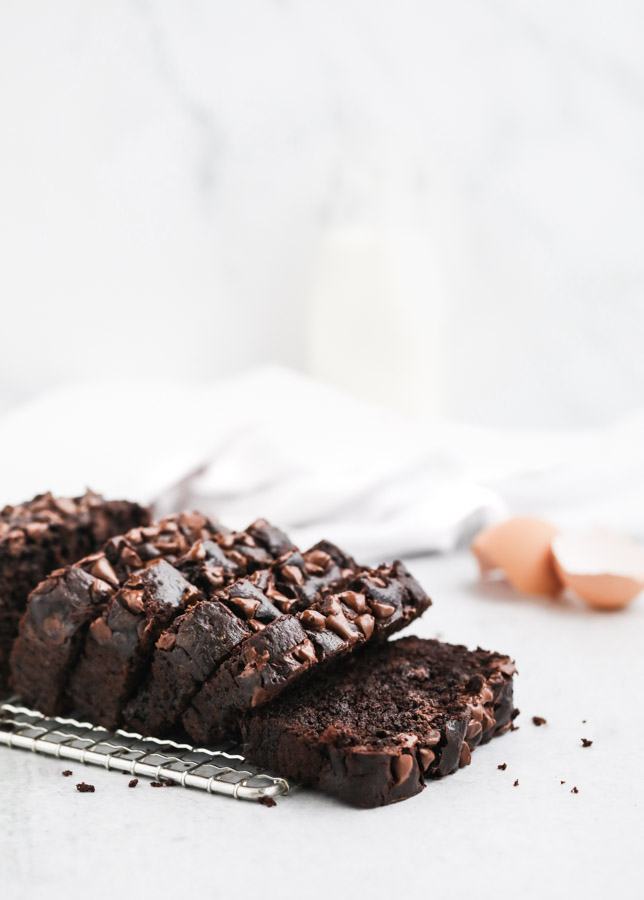 This Chocolate Lover's Banana Bread is the perfect balance of banana and chocolate. Leave it to me to use not one, but TWO, kinds of chocolate in this recipe because I'm extra like that. It's loaded with chocolate chips because more is better when it comes to chocolate. This banana bread is soft and perfectly tender and it literally melts in your mouth. I use butter and greek yogurt to guarantee a next-level texture that will have you reaching for a second slice every time. It's just that good!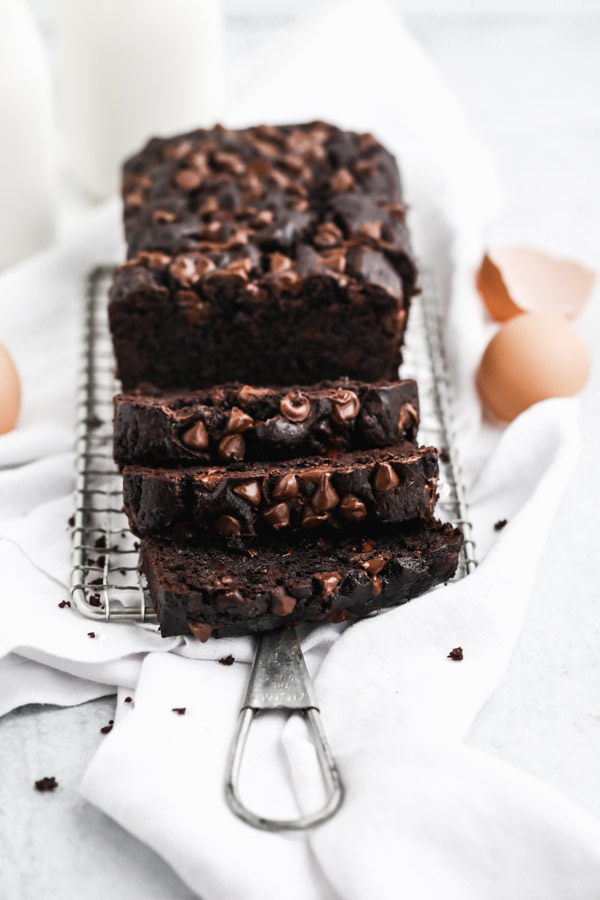 HOW TO MAKE CHOCOLATE LOVER'S BANANA BREAD
After a few attempts at making this bread, I finally got the recipe just right. I'm like Goldilocks when it comes to my banana bread. It can't be mushy. Not too banana-y. It definitely can't be dry. And it better not be bland. This Chocolate Lover's Banana Bread is none of those things and the following tried and true tips will guarantee you a banana bread worth waking up at the crack of dawn for.
Mash those bananas and mash them again. I am all in for plenty of sweet banana flavor in my banana bread but I'm not a big fan of chunks of banana in my bread. So to get that smooth texture with no lumps, we puree the ripe bananas in a food processor until they resemble the consistency of baby food. Yep, think Gerber baby food straight from the jar. You'll get all of the great banana flavor without any weird, unappetizing lumps of fruit hiding out in your bread.
Full fat greek yogurt is a must. Using yogurt in the recipe gives the bread added moisture and paired with the mashed banana, makes the texture of this bread something else. If you don't have full fat greek yogurt, you can substitute regular yogurt or even sour cream. Don't substitute with milk or even buttermilk.
Butter is better! Butter gives the bread a richer flavor and a slightly denser texture than vegetable oil does. I prefer butter over oil in the vast majority of my recipes and this Chocolate Lover's Banana Bread is no exception.
Chocolate matters. This recipe calls for special dark Dutch process cocoa powder and a heaping cupful of chocolate chips. The Dutch process cocoa powder gives the bread the rich, dark look and a deeper chocolate flavor. I don't recommend using regular unsweetened cocoa powder. It just won't be the same and then you've wasted those perfectly brown bananas you worked so hard to ripen. I use mini dark chocolate chips in the batter and I sprinkle extra chips on top of the loaf before baking. My life motto definitely applies to this recipe….when in doubt, add more chocolate.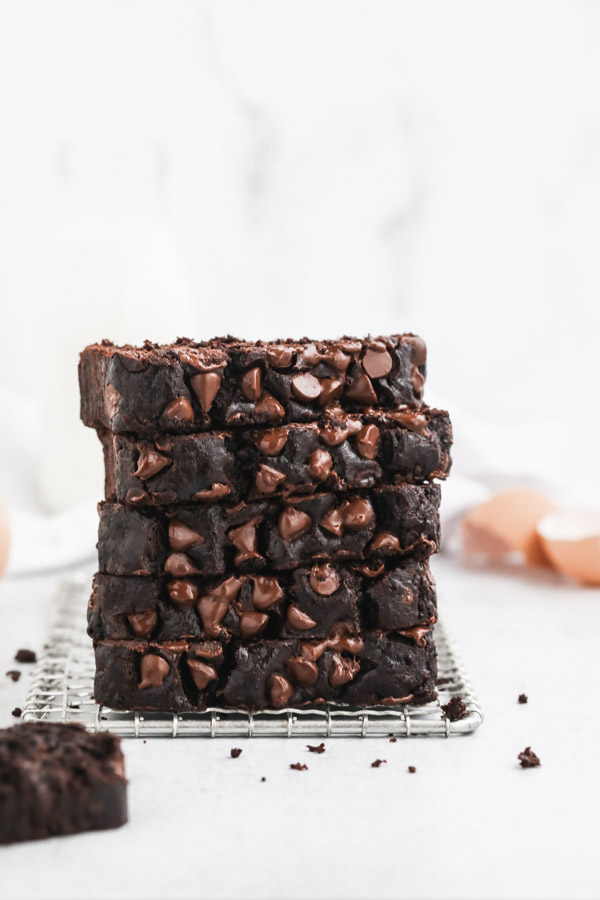 This Chocolate Lover's Banana Bread is pure bliss straight from the oven. But I will say it's might be even better the next day. I tested this theory and the bread holds it's moisture but also gets a bit more dense and fudgy as it sits overnight. Pro tip: make two loaves so you have plenty of leftovers for the second day. You'll be glad you did.
I was testing this banana bread for the first time just before leaving for a ten day vacation. So I tightly wrapped the left over slices and threw them in the freezer and couldn't have been happier to find the freezer stash waiting for me after a twelve hour flight and a nine hour time difference. This slice of heaven is exactly what I needed! Moral of the story….it freezes well. Scratch that. It freezes perfectly!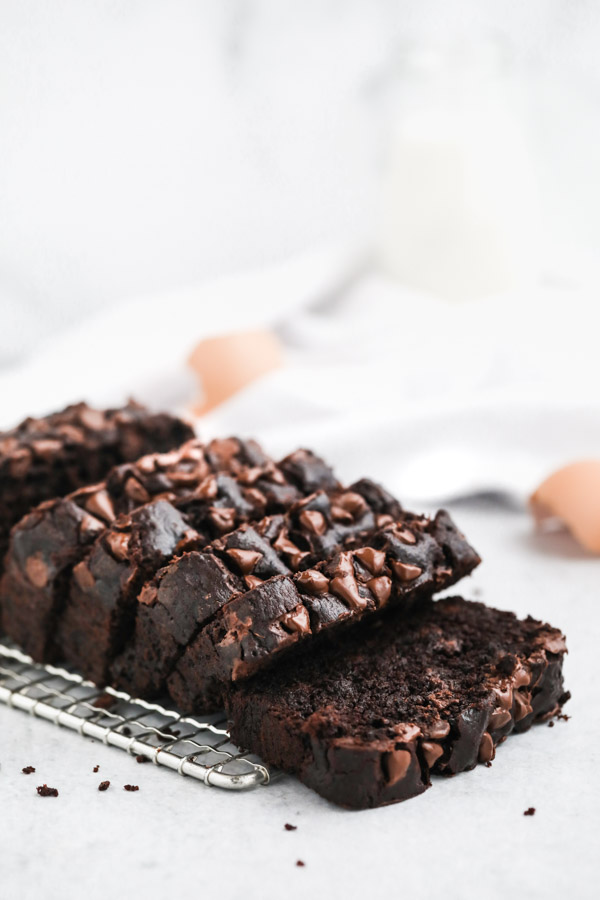 If you really want to take this banana bread up another notch, feel free to add nuts, coconut flakes, peanut butter chocolate chips.
Go wild! You do you!!
I reaaalllly hope you bake this Chocolate Lover's Banana Bread soon. If you make this bread, or any other recipe from but blog, be sure to tag @brownedbutterblondie on Instagram. I love to see what you're baking up in your kitchen. And don't forget to follow along on Pinterest for all the latest recipe details straight from the blog. To save this recipe to your own Pinterest board, simply click on the red SAVE button on any image in this post. I'll see you back here on Friday with another new recipe for my favorite new mini dessert that is perfect for spring and summer!
Happy baking bakers!
Chocolate Lover's Banana Bread
A rich and fudgy chocolate banana bread that is the perfect balance of chocolate and banana. What breakfast dreams are made of.
Created By:
Browned Butter Blondie
Ingredients
1 cup all purpose flour
¾ cup granulated sugar
½ cup dark Dutch process cocoa powder
¾ tsp baking powder
½ tsp baking soda
¼ tsp salt
½ cup unsalted butter, melted
1 egg, room temperature
1 egg yolk, room temperature
1 tsp vanilla
¼ cup full fat greek yogurt
2 ripe bananas, pureed
1¼ cup semi sweet or dark chocolate chips
Instructions
Preheat oven to 350 degrees
Grease a 9 x 5 " loaf pan with non stick cooking spray and line with parchment paper. Leave the short sides of parchment hanging over edge of pan to allow for easy removal of the loaf after cooling.
Puree 2 very ripe bananas in a food processor until smooth, similar in consistency to baby food.
In a medium bowl, whisk together flour, cocoa powder, baking powder, baking soda and salt.
Set aside.
In the bowl of a stand mixer fitted with the paddle attachment, mix melted butter and sugar together until combined and pale in color.
Add eggs and mix until combined.
Add vanilla and yogurt and continue to mix on low speed until combined.
Slowly add flour mixture to the butter mixture, mixing on low speed until just barely combined and some streaks of flour still remain. Do not over mix.
Remove bowl from mixer and gently stir in pureed bananas with a spatula until incorporated.
Add chocolate chips and stir to combine, reserving some for the top of the loaf.
Pour batter into prepared pan and top with reserved chocolate chips.
Bake for 50-55 minutes, checking halfway through to be sure bread isn't browning to much on top. Add a piece of foil across the top of loaf if needed.
Bake until center is set and a toothpick inserted in the middle of the bread comes out with few crumbs remaining.
Cool completely on a wire rack.