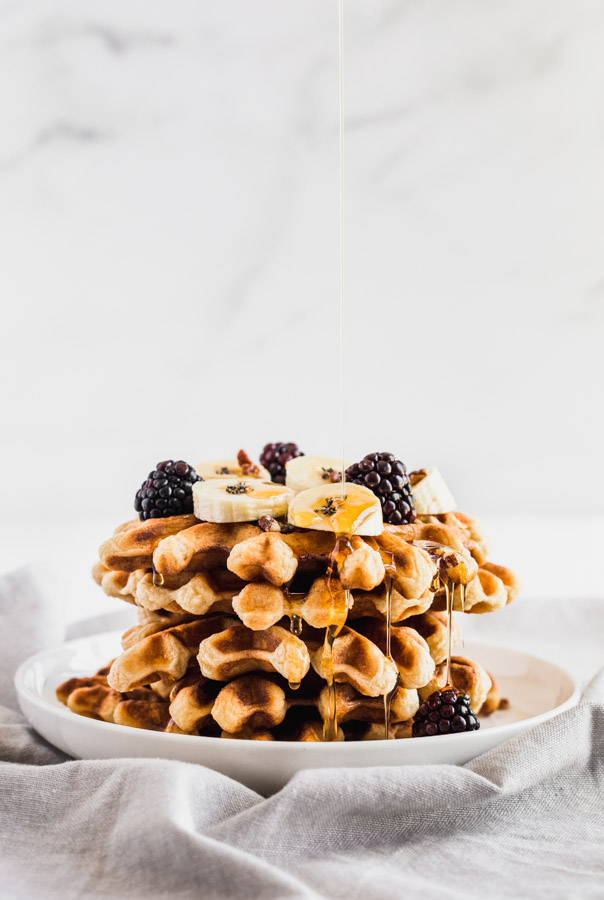 Goooodmorning!! Let's just pretend it is, even if it's not yet. I'm not a coffee drinker so mornings for me are a bit rough (ok, a LOT rough) until I get a mug of warm lemon water in my hand followed by a hearty breakfast. Breakfast has always been my favorite meal of the day, ever since I was a kid. Still is, without a doubt. Maybe it's because I don't drink coffee that breakfast is the first thing I think about in the a.m. Well, after I've thought about the fact that it's so dang early and so freakishly dark outside. And maybe after I've mulled over the million and one things I have to accomplish in the next twelve to fourteen hours before my head hits the pillow again. So you get the gist. I'm big on breakfast. It is heralded as at the most important meal of the day, after all.
Growing up my mom would almost always be up before my feet hit the floor to make a warm breakfast for my sister and I. At least three days out of five we were lucky enough to skip the cold, soggy cereal bowl in favor of a piping hot short stack. Pancakes were my mom's specialty and the image of her flipping flapjacks at the griddle in our cheery, yellow-wallpapered kitchen is forever seared in my memory. She had a way of taking an ordinary, rather mundane morning routine and turning it into something special. To say I missed those hot morning meals when I went off to college would be a major understatement. Cold cereal and runny eggs at the dorm room cafeteria didn't exactly have me leaping out of bed at the crack of dawn.
So in true pay it forward fashion, I am now that mom. Pushing the snooze button just one more time is oh-so-tempting. But the reward is greater than the sacrifice. And I know we are just talking about breakfast here, but doesn't that phrase, as cliche as it is,  just perfectly describe our role as mothers? We give and give without any expectation to be rewarded. It's just the way we operate and I'm down with that. I'm so on board with it that most mornings as the sun rises I stroll into the kitchen wearing my "I'm allergic to mornings" sweatshirt and rummage around in the pantry to decipher which ingredients we have for what.
Pancakes, scones, muffins, banana bread….I have a pretty lengthy list of breakfast options in my rotation. For one reason or another, I am partial to waffles. This recipe for Gluten Free Belgian Waffles is a family favorite that we use again and again. It's easy to throw together and the taste and texture of these golden brown Belgians is perfection. Their nooks and crannies are delightful vessels for holding onto puddles of amber colored maple syrup or sweet whipped cream. Topped with fresh fruit, nuts or chocolate chips you have a breakfast of champions!
I'll be serving these up hot tomorrow morning for my three girls and even as they grumble and groan about how early it is and how tired they are, I know they'll secretly be stashing this little early morning ritual of ours in their own memory banks. They'll thank me later and that's just fine by me.
Gluten Free Belgian Waffles
Golden brown Belgian waffles so good you'll never know they are gluten free. Top with syrup, whipped cream or honey these are perfect for school day mornings or an easy weekend brunch.
Created By:
Browned Butter Blondie
Ingredients
1½ cups gluten free flour
1½ tsp baking powder
½ tsp baking soda
½ tsp xanthum gum
2 eggs
1 cup milk
⅓ cup bakers sugar
½ tsp salt
2 tsp vanilla extract
3 TBSP unsalted butter, melted
Instructions
Blend dry ingredients
Add eggs, milk, vanilla
Whisk until free of lumps
Slowly add melted butter and blend until smooth
Heat waffle iron and grease with non-stick cooking spray
Cook until golden brown on both sides
Reapply cooking spray in between each waffle
Serve warm with maple syrup
Happy Easter peeps!