When the craving for comfort food calls…salty, melted cheese to the rescue! This Gluten Free Baked Mac and Cheese is my go-to favorite for chilly nights when dinner needs to be on the table in a hurry.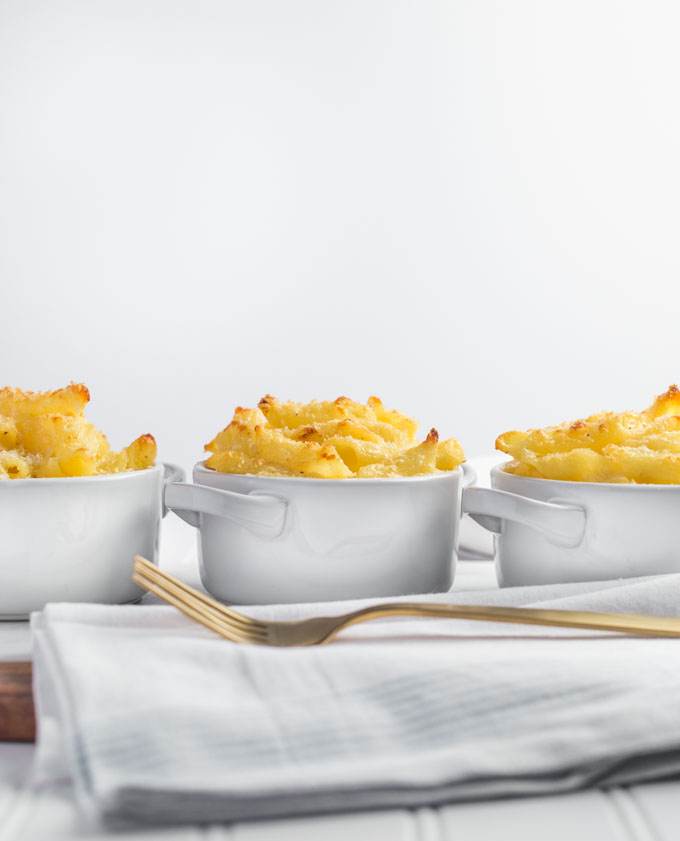 There are few things I love about wintertime. I'm a sunshine and sand kinda girl so let's just suffice it to say that December through February are just not my favorite. I do love a pair of cute suede boots and a nice cozy fire to warm up a room. And Christmas. I do love Christmas! Other than that, I could literally go into hibernation until the first of March and skip the whole cold weather, rainy day, dark at five o'clock deal. Sometimes a feel good meal is just the thing we need to nudge those winter blues away. Grey skies and drizzly days call for pasta in some form and a classic mac and cheese dish never disappoints.
As a kid I was never a huge fan of mac and cheese. It was often too runny, too cheesy or too soggy. I'm a bit like Goldilocks from the children's storybook when it comes to the taste and texture of my mac and cheese. It HAS to be just right or it's a "no thank you". This from- scratch mac is actually made with gluten free penne pasta. We have a few gluten free peeps in the family and I'd hate for anyone to miss out on this cheesy goodness. Switching out the pasta and breadcrumbs for gluten free versions is an easy fix. I have found that noodles made with a blend of corn and rice hold up best. Noodles made with only rice flour tend to lead to limp and droopy mac and cheese. Just not my thing. While I usually make this recipe with penne rigate pasta, any pasta with plenty of nooks and ridges to capture the pockets of cheese will do.
This classic is really a one-dish wonder. Gluten Free Baked Mac and Cheese gets a gold star from even the pickiest eaters. This dish is all about the C H E E S E ! The keep-it-simple principle definitely applies to this recipe. Using high quality, full flavored cheese will create a creamy, indulgently cheesy pasta that will have everyone begging for seconds. Step away from the boxed macaroni and cheese people. That powdered mystery cheese substance has no place at your table. For smooth and creamy flavor stick with sharp and medium cheddar and white cheddar cheeses.  A sprinkling of kosher salt and black pepper balances the flavor just right. A home run every single time.
Since I like a bit of crunch on top of this baked pasta, I add a dash of gluten free panko breadcrumbs before popping the pots in the oven. This gives the top of the pasta a delicately crunchy texture and the grit of the panko pairs nicely with the creamy cheese under the top layer. This dish is the ultimate comfort food when served up in individual cocottes or ramekins. Something about a dish perfectly sized for a single serving makes the meal just a little cozier. Any extra pasta is easily stored in the fridge by popping on the lid. Always nice to have on hand when those chilly winter nights call for leftovers.

Gluten Free Baked Mac & Cheese
Gluten Free Baked Mac & Cheese is a classic feel good winter meal. This one dish from-scratch mac is a perfect comfort food recipe perfect for busy weeknights when you need dinner in a hurry.
Created By:
Browned Butter Blondie
Ingredients
1 (16 oz) package gluten free corn and rice pasta
4 TBSP unsalted butter
2 TBSP corn starch
1 cup lowfat milk
1 cup heavy cream
1 TSP kosher salt
freshly ground black pepper, to taste
1½ cups quality sharp or medium sharp cheddar cheese, shredded
1 cup quality medium white cheddar cheese, shredded
gluten Free Panko Breadcrumbs
Instructions
Preheat oven to 400 degrees.
Cook and drain pasta according to package directions, set aside.
In a large saucepan, add milk, heavy cream, butter, salt and cornstarch.
Dissolve cornstarch before heating.
Bring mixture to a boiling point and boil 2 minutes, stirring constantly.
Add shredded cheese bit by bit and simmer an additional 5 minutes, until cheese melts.
Turn off flame.
Add pasta to the saucepan and toss to coat with hot cheese sauce.
Transfer mixture to a buttered baking dish or indvidual ramekins.
Sprinkle top(s) with gluten free breadcrumbs.
Bake 20 minutes until top is golden brown. Check after 15 minutes to avoid over baking.
Notes
For leftovers, cool to room temperature and then portion out into individual containers or bags to store in freezer.