Gingerbread Cupcakes with Maple Buttercream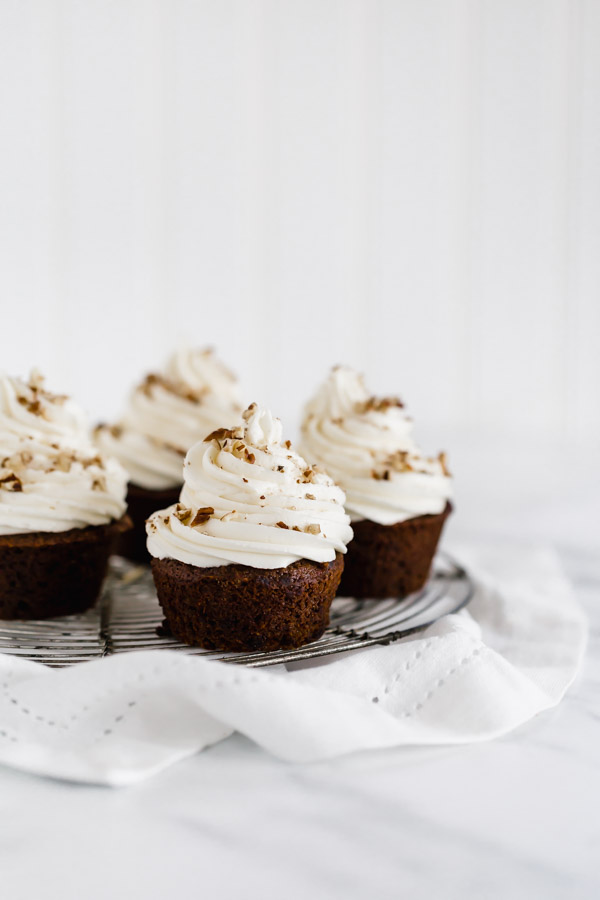 Created By:
Browned Butter Blondie
½ cup unsalted butter, room temperature
½ cup dark brown sugar, packed
1 large egg, room temperature
1 tsp vanilla extract
½ cup molasses, unsulphered (I used blackstrap molasses)
½ cup whole milk, room temperature
1¼ cups all purpose flour
½ tsp baking soda
½ tsp baking powder
½ tsp kosher salt
1 tsp ground cinnamon
1 tsp ground ginger
½ tsp nutmeg
¼ tsp allspice
¼ tsp cloves
¼ cup chopped pecans
2 sticks unsalted butter, room temperature
3¾ cups confectioner's sugar
2 tsp vanilla extract
1-2 TBSP maple syrup
½ tsp salt
1-2 TBSP whole milk (optional)
Preheat oven to 350 degrees
Line a cupcake tin with paper liners or coat generously with non-stick cooking spray
In a stand mixer, beat butter and brown sugar together on high until light and fluffy. About 3-4 minutes
Add egg and vanilla and beat on medium speed until combined
Stir molasses into milk with a fork to combine
In a small bowl, combine flour, baking soda, baking powder, salt and spices
With mixer speed on low, add milk/molasses mixture and flour mixture by alternating, beginning and ending with flour mixture
Pause occasionally to scrape down sides of mixing bowl
Do not over mix
Pour batter into cupcake molds, filling ⅔ full
Careful not to overfill
Bake in a 350 degree oven for 18-20 minutes until a toothpick inserted in the center comes out clean
Remove from oven and cool completely before frosting
Whip softened butter on high speed in an electric mixer until fluffy.
Approximately 1-2 minutes
Add confectioners sugar and beat on high speed for 3-4 minutes
Add vanilla, salt, maple syrup and 1 TBSP of milk
Whip on high for 2 minutes
Add another TBSP of milk if frosting is too stiff
Place buttercream into a piping bag and pipe swirls on top of each cupcake
Top with crushed pecans if desired
Store left over cupcakes in an airtight container at room temperature for 3-4 days.
Recipe by
Browned Butter Blondie
at https://brownedbutterblondie.com/gingerbread-cupcakes-with-maple-buttercream/