Blood Orange Cardamom Bundt Cake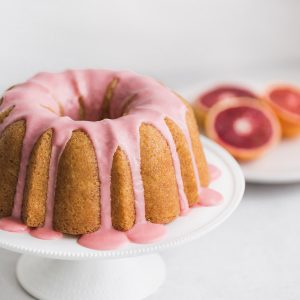 Created By:
Browned Butter Blondie
1¼ cups all purpose flour, spooned and leveled
1 cup cake flour, spooned and leveled
1 TBSP baking powder
½ tsp baking soda
1 tsp cardamom
½ tsp salt
2-3 TBSP blood orange zest
3 eggs, room temperature
1½ cups granulated sugar
1½ tsp vanilla extract
½ cup exrtra virgin olive oil
½ cup whole milk, room temperature
½ cup full fat yogurt, room temperature
1 TBSP unsalted butter, melted
2 TBSP blood orange juice, strained
¾ cup confectioner's sugar, sifted
pinch of kosher salt
Preheat oven to 350 degrees
Generously grease a 10-cup bundt pan with melted vegetable shortening. Dust the pan with flour and then invert the pan to tap out the excess. Set aside.
In a medium bowl, whisk together flour, cake flour, baking powder, baking soda, cardamom and salt. Set aside.
In the bowl of a stand mixer fitted with the whisk attachment, mix together eggs, granulated sugar and vanilla on high speed for 8 minutes. Mixture should be pale and fluffy.
Reduce mixer speed to low and slowly drizzle in the olive oil. Continue to mix on low speed until fully combined.
Remove the whisk attachment and replace with the paddle attachment.
Add the dry ingredients in three additions, alternating with the milk and then the yogurt. Begin and end with the flour mixture.
Mix on low speed until just barely incorparated. Do not over mix.
Remove the bowl from the mixer and use a spatula to gently fold in the blood orange zest, mixing gently.
Pour batter into the prepared pan and tap firmly on countertop three times to level the batter and reduce air bubbles.
Bake on the center rack of the oven for 45-50 minutes, checking the cake at 35 minutes to be sure the top is not browning too quickly.
The cake is done when a toothpick inserted into the center comes out clean or with a few crumbs remaining.
Remove the pan from the oven and set on a cooling rack to cool for 10 minutes. After 10 minutes, invert the pan onto a cooling rack or platter and allow the cake to release.
Do not wait much longer than 10 minutes to remove the cake from the pan as it may begin to stick and you may have trouble releasing the cake.
Let the cake cool completely before drizzling with the blood orange glaze.
Add all ingredients in a medium bowl and whisk together to combine well. If too thin, add more confectioner's sugar. If too thick, add more juice.
Allow glaze to sit for a few minutes to thicken before drizzling over the top of the cooled cake.
Let glaze set on cake before slicing and serving.
Recipe by
Browned Butter Blondie
at https://brownedbutterblondie.com/blood-orange-cardamom-bundt-cake/