Chocolate Mocha Linzer Cookies with Dulce de Leche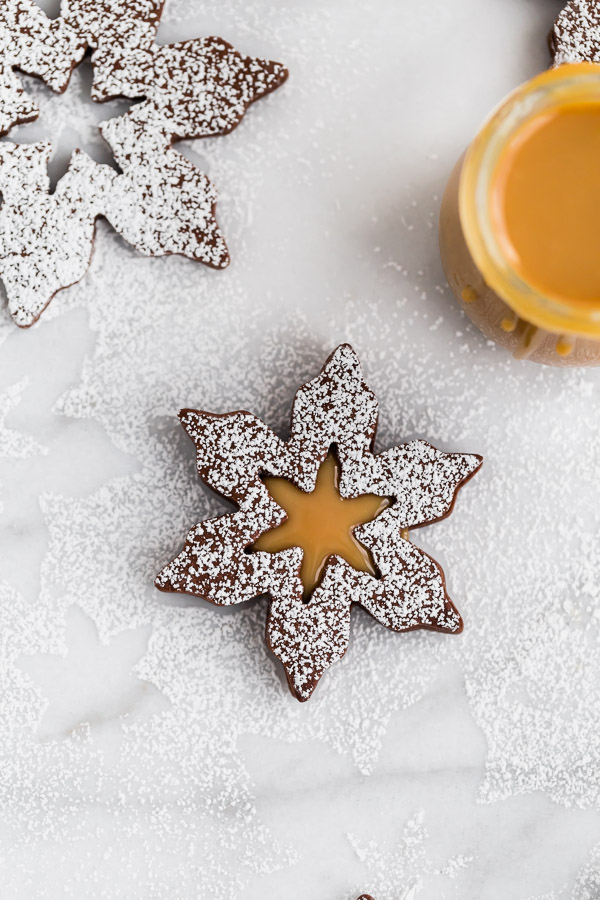 Created By:
Browned Butter Blondie
1 can Eagle Brand Sweetened Condensed Milk
1 cup (2 sticks) cold unsalted butter, cut into small cubes
2 TBSP canola oil
3 tsp espresso powder
¾ cup granulated sugar
½ cup confectioner's sugar
1½ teaspoon vanilla
1 teaspoon kosher salt
2 large eggs, room temperature
½ cup cornstarch
1 cup unsweetened cocoa powder, dark Dutch process
3 cups all purpose flour
confectioner's sugar for dusting
Place a can of Eagle Brand Sweetened Condensed Milk in a large pot of water over medium high heat. Be sure the can is covered by at least two inches of water all times.
Bring the water to almost boiling and then reduce to a simmer. Simmer for 2-3 hours, checking water level often.
Add more water as needed, making sure to always keep the water line at least two inches above the can. The dulce de leche will be darker in color the longer you leave it to simmer.
Remove the can from the pot with tongs and allow to cool to room temperature. Open the can and stir before spooning onto cookies.
Cream the butter, oil, espresso powder, sugars, vanilla and salt on low speed in the bowl of a stand mixer fitted with a paddle attachment. Do not over mix as we do not want to incorporated air into the dough.
Add the eggs one at a time and mix on low speed until incorporated.
In a medium bowl, whisk together the cornstarch, cocoa powder and flour.
Slowly add the flour mixture to the butter and egg mixture until fully incorporated. If needed, add a TBSP at a time of flour until the dough pulls away from the sides of the bowl and forms a ball. The dough should come together and not be too dry.
Remove the dough from the bowl and form into a ball. Cut the ball in half.
Place each half on a piece of parchment paper, cover with another piece of parchment paper and then roll the dough with a rolling pin to ⅜ inch thick.
Slide the parchment sheets onto a cookie sheet and chill the dough in the freezer for 15 minutes. Repeat with second ball of dough.
**Prep time includes making the dulce de leche.
Note that cookies come together quickly, but dulce de leche must simmer on the stovetop for 2-3 hours. Plan accordingly.
Cookies may be frozen before filling with dulce de leche.
Dough may be made in advance. Store tightly wrapped in the refrigerator.
Recipe by
Browned Butter Blondie
at https://brownedbutterblondie.com/chocolate-mocha-linzer-cookies-with-dulce-de-leche/