Chewy Maple Snickerdoodles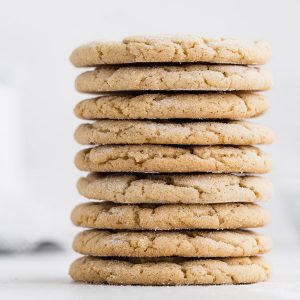 Created By:
Browned Butter Blondie
Recipe type:
Cookies and Bars
2 cups all-purpose flour
1 tsp cream of tartar
1 tsp baking soda
1½ tsp cinnamon
¼ tsp salt
¾ cup (12 TBSP) unsalted butter, room temperature
1 cup granulated sugar, plus ¼ cup for coating cookies
¼ cup light brown sugar
1 large egg, room temperature
¼ cup pure maple syrup
1 tsp vanilla extract
Preheat oven to 375 degrees.
Line two baking sheets with parchment paper and set aside.
Fill a small bowl with ¼ cup of granulated sugar to roll the dough balls in before baking. Set aside until ready to use.
In a medium bowl, whisk together the flour, cream of tartar, baking soda, cinnamon and salt. Set aside.
In the bowl of a stand mixer fitted with the paddle attachment, cream the butter and sugars together on medium high speed until light and fluffy, about 3-4 minutes.
Add egg and vanilla, mix until combined. Scrape down the sides of the bowl with a spatula as needed.
Add maple syrup and mix on low speed until incorporated.
Add the flour mixture in three additions, stopping to scrape down the sides of the bowl as needed.
Once flour is fully incorporated, remove the bowl from the mixer, cover with plastic wrap and refrigerate for 15-20 minutes.
Remove from refrigerator and roll dough into 1 inch balls.
Coat the balls in the reserved sugar, covering thoroughly.
Place on a baking sheet 2-3 inches apart and bake for 8-9 minutes or until tops are cracked and center is barely set. Cracks will still look under-baked but will continue to bake once removed from the oven.
Do not over bake.
Dust tops with extra sugar if desired.
Cool cookies on the baking sheet for 5 minutes then transfer to a cooling rack.
Store cookies tightly wrapped in a cool, dry place.
May be frozen.
Recipe by
Browned Butter Blondie
at https://brownedbutterblondie.com/chewy-maple-snickerdoodles/