Pumpkin Bread with Chocolate Buttercream Frosting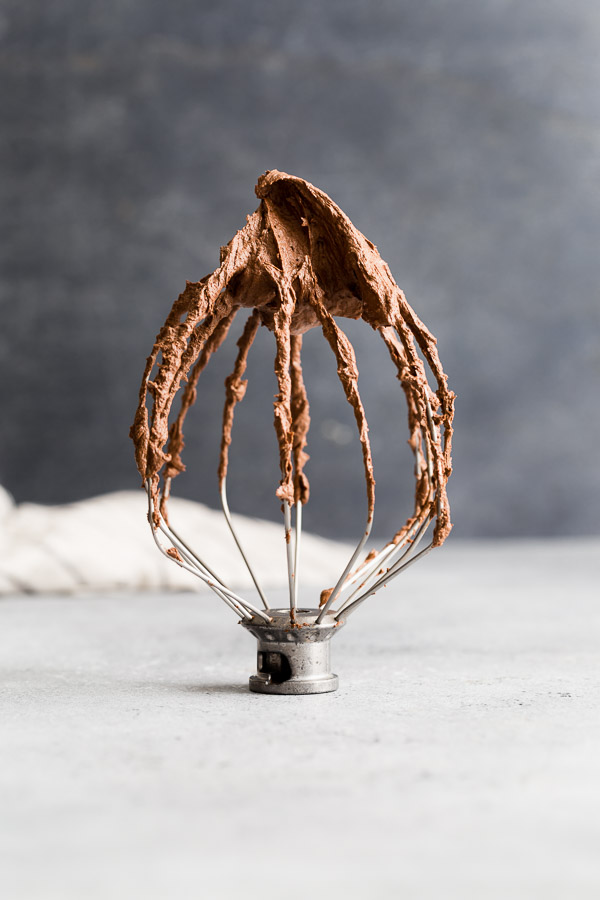 Created By:
Browned Butter Blondie
1½ cups all-purpose flour
1 tsp baking powder
¾ tsp baking soda
1 cup brown sugar
1 tsp cinnamon
1 tsp nutmeg
½ tsp ground clove
¼ tsp ginger
⅔ cup plain greek yogurt
½ cup pumpkin puree (not pumpkin pie filling)
2 eggs, room temperature
¼ cup vegetable oil (I use canola oil)
1 tsp vanilla
1 stick unsalted butter, room temperature
1½ cups confectioner's sugar
⅓ cup unsweetened cocoa
4 TBSP heavy cream (or whole milk)
½ tsp vanilla
Preheat oven to 350 degrees.
Grease a 9 x 5 inch loaf pan with non stick cooking spray and then line with parchment paper, allowing the ends of the paper to hang over the sides for easy removal of the loaf.
In a medium bowl, mix together the dry ingredients including the spices.
In a large bowl, combine the pumpkin, eggs, oil, greek yogurt and vanilla. Mix well to combine.
Add the dry ingredients to the wet ingredients and fold together to combine well.
Pour the batter into the prepared pan and bake for 45 to 60 minutes. Check for doneness with a toothpick inserted into the center of the loaf.
If the loaf is browning too quickly, cover loosely with a piece of aluminum foil.
When loaf is done, remove from oven and cool completely on a wire rack before removing the bread from the pan.
Once cool, frost generously with the chocolate buttercream.
In the bowl of a stand mixer fitted with a paddle attachment, mix the butter on high speed for 2 minutes until light and fluffy.
Sift in the confectioner's sugar and cocoa powder and combine on low speed.
Add the heavy cream and vanilla and increase the speed to medium high until well combined.
Once incorporated, turn mixer up to high speed and whip the frosting for 5-7 minutes until light and fluffy.
Spoon frosting onto cooled loaf and spread using an offset spatula or butter knife.
Store leftover pumpkin bread tightly covered in a cool, dry place.
Bread may be frozen. Frost with buttercream once defrosted.
Recipe by
Browned Butter Blondie
at https://brownedbutterblondie.com/pumpkin-bread-with-chocolate-buttercream/