Pumpkin Chocolate Swirl Muffins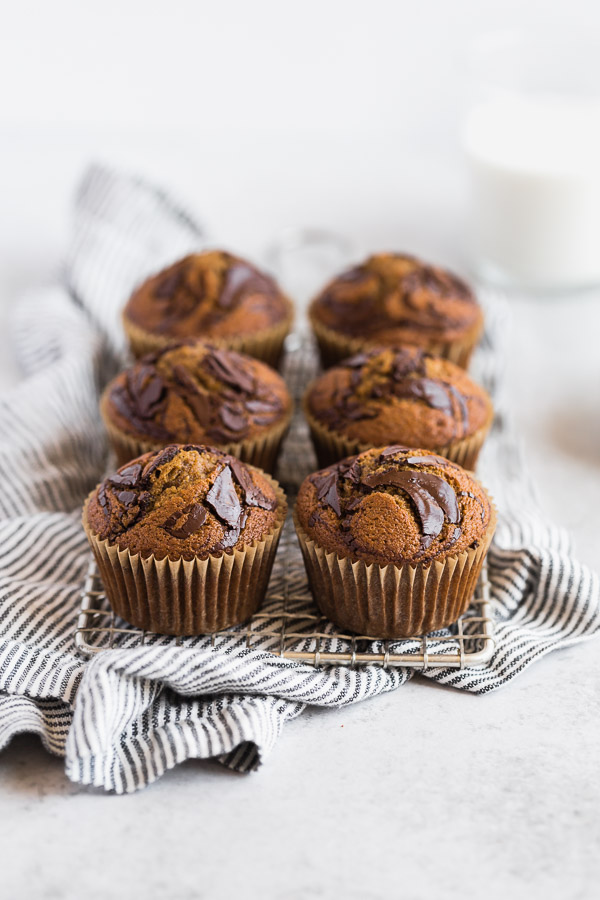 Created By:
Browned Butter Blondie
1½ cups all-purpose flour
1 tsp baking powder
½ tsp baking soda
½ tsp salt
1 tsp ground cinnamon
½ tsp ground nutmeg
¼ tsp allspice
¼ tsp ginger
¼ tsp cloves
⅔ cup granulated sugar
⅔ cup light brown sugar
½ cup vegetable oil (I use canola oil)
¾ cup canned pumpkin puree (not pumpkin pie filling)
2 large eggs, room temperature
¼ cup buttermilk, room temperature
⅔ cup melted semisweet chocolate for swirls, slightly cooled
In a large bowl, whisk together flour, baking powder, baking soda, salt, and spices. Set aside.
In a separate bowl, whisk together sugars, vegetable oil, pumpkin, eggs and buttermilk until well combined.
Pour pumpkin mixture into the flour mixture and gently fold together using a wooden spoon or spatula. Do not over mix.
For best results, cover bowl and let sit at room temperature for 30 minutes to an hour.
Preheat oven to 425 degrees.
Line a 12 cup muffin pan with paper liners.
Divide batter evenly between the muffin cups, filling ¾ of the way full.
Spoon 2-3 small dollops of melted chocolate on top of each muffin and use a toothpick to swirl the chocolate and pumpkin together. Just one or two swirls will do the trick.
Bake in the preheated oven for 6-8 minutes or until muffins start to rise and tops begin to dome. Reduce oven temperature to 375 and bake for 10-12 more minutes or until a toothpick inserted in the top comes out clean. Bake for extra time if needed.
If tops are browning too quickly, loosely place a sheet of aluminum foil oven the top of the muffin pan.
Remove from oven and allow to cool 10 minutes in the pan.
Remove muffins and cool on a wire rack until ready to serve.
Best served warm.
Store muffins tightly covered in a cool dry place.
May be frozen.
Recipe by
Browned Butter Blondie
at https://brownedbutterblondie.com/pumpkin-chocolate-swirl-muffins/