5 Ingredient Dark Chocolate Pretzel Bark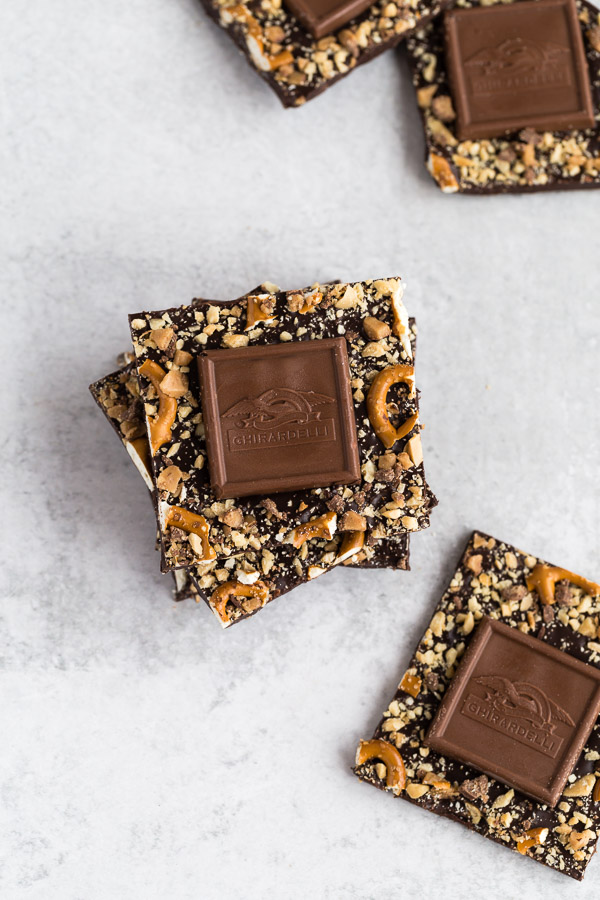 Created By:
Browned Butter Blondie
16 ounces dark chocolate, chopped for easy melting
⅓ cup roasted, salted peanuts, chopped
¾ cup mini pretzel twists, split in pieces
⅓ cup toffee bits
10-12 Ghirardelli Milk Chocolate Caramel Squares
Line a standard cookie sheet with parchment paper.
Chop dark chocolate to make for easier melting.
Melt chocolate over a double boiler, stirring often.
Once fully melted and smooth, remove from heat and pour onto prepared sheet pan.
Using an offset spatula, spread chocolate into a large rectangle, until about ¼-1/2 inch thick, depending on preference.
Sprinkle top evenly with chopped peanuts and pretzel pieces
Sprinkle top with toffee bits
Place Ghirardelli Milk Chocolate Caramel Squares uniformly on top of chocolate before it sets and gently press in to the chocolate to attach.
Place cookie sheet in refrigerator for 30 minutes to one hour until set.
Using a sharp knife, cut squares of bark or use hands to break into random pieces.
Serve cold or at room temperature.
Recipe by
Browned Butter Blondie
at https://brownedbutterblondie.com/5-ingredient-dark-chocolate-pretzel-bark/