Salted Caramel Chocolate Espresso Cupcakes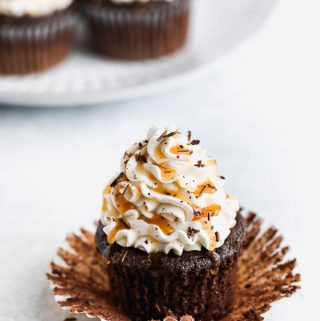 Created By:
Browned Butter Blondie
¾ cup all purpose flour
½ cup Dutch process cocoa powder
½ tsp baking soda
¾ tsp baking powder
¼ tsp salt
2 eggs, room temperature
⅓ cup granulated sugar
⅓ cup light brown sugar
⅓ cup canola oil
1½ tsp vanilla
½ cup buttermilk, room temperature
¼ cup hot, freshly brewed espresso (or hot coffee)
¼ cup unsalted butter
1 cup firmly packed light brown sugar
½ cup heavy whipping cream
2 tsp vanilla
⅛ tsp kosher salt
1 cup unsalted butter, room temperature
3½ - 4 cups confectioner's sugar
6 TBSP salted caramel, room temperature
1-2 TBSP whole milk
Extra caramel and chocolate shavings for garnish
Preheat oven to 350 degrees
Line a 12-cup muffin pan with cupcake liners. Set aside.
In a large bowl, whisk together flour, cocoa powder, baking soda, baking powder and salt until combined. Set aside.
In the bowl of a stand mixer fitted with the paddle attachment, combine eggs, sugars, oil and vanilla on medium-low speed until well combined.
Add half the dry ingredients to the egg mixture, followed by half of the buttermilk. Repeat with the other half of the dry ingredients and buttermilk, scraping down the sides of bowl as needed.
Do not over mix.
Add hot espresso and mix on low speed until just combined.
Batter will not be too thick.
Evenly distribute batter between the cupcake liners, filling no more than ⅔rds full.
Bake 16-18 minutes or until a toothpick inserted in the center comes out clean or with few crumbs remaining.
Remove the pan from oven and cool cupcakes in the pan for 10 minutes. Remove from pan and let cool completely before frosting.
In a medium saucepan over medium heat, melt the butter.
Add brown sugar and stir to combine.
Cook for 5 minutes, stirring constantly. Mixture will thicken.
Add heavy cream, vanilla and salt and stir to combine completely.
Remove from heat and let cool slightly before transferring to a bowl or jar to cool to room temperature.
In the bowl of stand mixer fitted with the paddle attachment, cream butter on medium-high speed for 1 minute.
Reduce speed to low and add confectioner's sugar mixing until combined.
Increase speed to medium-high and mix until light and fluffy, about 3 minutes.
Stop mixer and add salted caramel. Whip on medium speed to combine and then increase speed to high and mix for 3-4 minutes until buttercream is light and fluffy.
If buttercream is too thick, add 1-2 TBSP whole milk. If too thin, add more confectioner's sugar.
Pipe buttercream onto cooled cupcakes and top with a drizzle of remaining salted buttercream. Top with chocolate shavings if desired.
Store leftover cupcakes in a cool, dry place for up to 3 days.
Cupcakes may be frozen before being frosted.
Store remaining salted caramel tightly covered in the refrigerator.
Recipe by
Browned Butter Blondie
at https://brownedbutterblondie.com/salted-caramel-chocolate-espresso-cupcakes/