Glazed Coffee Cake Muffins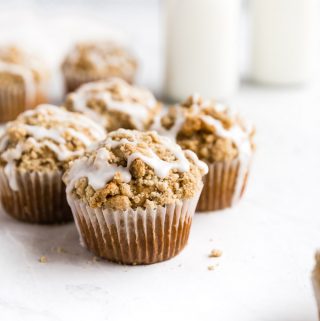 Created By:
Browned Butter Blondie
1¾ cups all purpose flour
½ cup brown sugar
2 tsp baking powder
½ tsp baking soda
2 tsp cinnamon
¼ tsp salt
½ cup whole milk
⅓ cup canola oil
⅓ cup full fat greek yogurt
2 eggs, room temperature
1 cup all purpose flour
¼ cup granulated sugar
¼ cup light brown sugar
pinch of salt
6 TBSP unsalted butter, cold and cubed
½ cup confectioner's sugar, sifted so there are no lumps
½ tsp vanilla
2-3 TBSP whole milk
Preheat oven to 350 degrees
Line a 12 cup muffin pan with paper liners. Set aside.
In a medium bowl combine flour, brown sugar, baking powder, baking soda and salt. Whisk to combine. Set aside.
In the bowl of a stand mixer fitted with the paddle attachment, mix together milk, oil, and eggs. Mix until well combined.
Add half of the dry ingredients to the milk and egg mixture and combine.
Add the greek yogurt and mix until incorporated.
Add the remaining dry ingredients and mix until a few streaks of flour remain.
Remove the bowl from mixer and run a large spatula around the batter to combine fully. Do not over mix.
For best results, allow batter to sit covered at room temperature for 30 minutes.
Scoop batter evenly in to the muffin liners.
Top generously with streusel topping, pressing very gently to the tops of batter.
Bake muffins 16-18 minutes or until a toothpick inserted into the center comes out clean.
Remove muffins from oven and cool on a wire rack for 15 minutes before adding glaze.
In a medium bowl, combined flour, sugars and salt. Stir until well combined.
Add cubed butter and use a pastry cutter or two knives to cut the butter in until mixture resembles course sand.
Combine confectioner's sugar, vanilla and milk in a small bowl and whisk well until combined. Add more milk for a thinner consistency, more confectioner's sugar for a thicker consistency. Drizzle over tops of cooled muffins.
Store in a cool dry place for up to 5 days.
Recipe by
Browned Butter Blondie
at https://brownedbutterblondie.com/glazed-coffee-cake-muffins/