Gluten Free Almond Butter Bars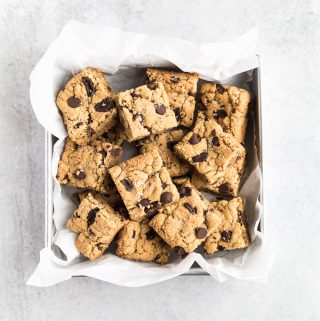 Created By:
Browned Butter Blondie
1 cup blanched almond flour
¼ cup coconut flour
1 tsp baking soda
¼ tsp kosher salt
5 TBSP coconut oil, melted
5 TBSP smooth almond butter, room temperature
¾ cup light brown sugar (or coconut sugar)
1¼ tsp vanilla
1 large egg, room temperature
1 cup bittersweet chocolate chips
Preheat oven to 350 degrees.
Grease a 9 x 9 inch baking pan with non-stick cooking spray and line bottom and sides of pan with parchment paper.
In a medium bowl, whisk together almond flour, coconut flour, baking soda and salt. Set aside.
In a large mixing bowl, mix coconut oil and brown sugar with a wooden spoon for 1 minute.
Stir in the almond butter and vanilla and mix until well combined.
Add egg and stir well.
Stir dry ingredients in to the coconut oil mixture until barely combined. Do not over mix.
Add chocolate chips and stir to combine.
Scoop dough into the prepared baking pan and use an offset spatula to level the top and press dough into the corners of the pan.
Bake for 20-22 minutes or until top is golden brown and center is set.
Cool on a baking rack for 15-20 minutes before removing from pan.
Cool completely before slicing into 9 squares.
Best served warm from the oven.
Store left overs wrapped tightly in a cool, dry place.
Freezes well.
Recipe by
Browned Butter Blondie
at https://brownedbutterblondie.com/gluten-free-almond-butter-bars/