A Beginner's Guide to French Macarons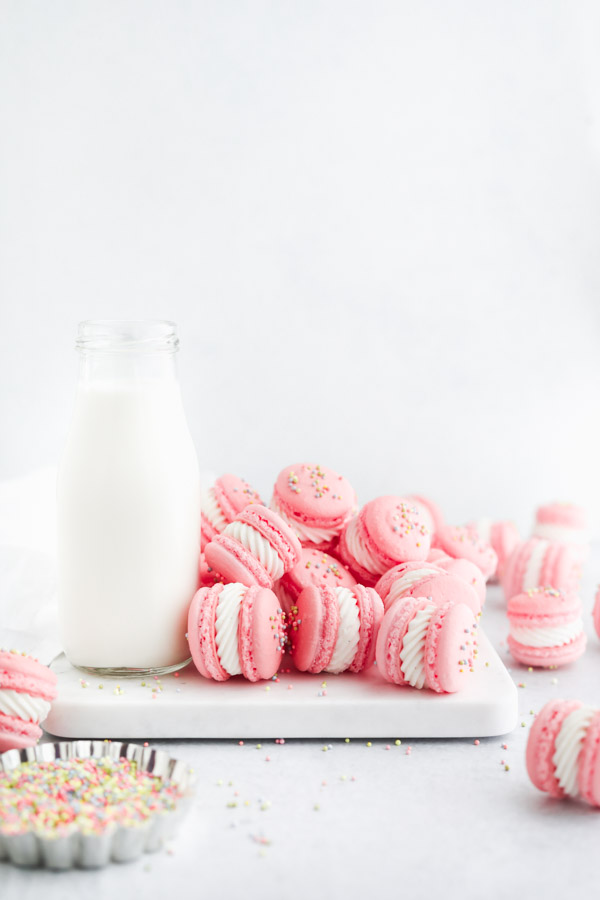 Created By:
Browned Butter Blondie
200 grams finely ground almond flour
200 grams confectioner's sugar
egg whites from 4 large eggs
200 grams granulated sugar
50 grams water
2-3 drops gel food coloring (if desired)
Preheat oven to 325 degrees
Line two baking sheets with parchment paper or non-stick silicon mats with macaron templates
Sift together almond flour and confectioner's sugar together into a large bowl, repeating 4 times.
Set aside.
In a small saucepan, heat granulated sugar and water together over high heat. Bring to a boil until mixture reaches 238 degrees on a candy thermometer. Remove from heat and let rest just 30 seconds.
When sugar and water mixture reaches about 200 degrees, begin whisking together egg whites in the bowl of a stand mixer fitted with the whisk attachment. Whisk on high speed until medium-soft peaks form. Do not over mix the egg whites, they should hold their form but not be dry and chunky.
Once sugar mixture has cooled 30 seconds, keep mixer on high speed and slowly stream the hot sugar into the stand mixer being careful not to splatter.
Once all of the sugar has been added, continue to mix on high speed for 8 minutes or until stiff peaks for and the bowl of the stand mixer returns to room temperature.
If adding optional food coloring, do so at minute 7 of mixing.
Once meringue is ready, add it to the almond flour and sugar mixture in three batches. Folding deliberately with large silicon spatula, turn the dry ingredients from the bottom of the bowl up to the top. Turn the bowl as you fold the batter with large, sweeping motions. Occasionally press the batter against the sides of the bowl with the spatula to press out air bubbles and smooth the batter.
Fold and smooth out the batter with large motions until the batter falls of the spatula like lava.
Do not over mix.
Spoon the batter into a pastry bag fitted with a medium tip and pipe the batter onto the silicon baking mat with templates. Circles should measure about 1-1¼ inches.
Tap cookie sheet onto counter top firmly three times to release air bubbles.
Let rest for 30 minutes until batter is dry to the touch.
Bake for 9-11 minutes
Macarons are done when tops still jiggle slightly but remain attached to the feet.
Remove from oven and cool on baking sheets for 5-8 minutes before gently peeling off of silicone mats.
To assemble macarons, pipe buttercream or other filling onto the flat side of one macaron and top with the flat side of another macaron to sandwich together.
For best results, store assembled macarons in the refrigerator.
Recipe by
Browned Butter Blondie
at https://brownedbutterblondie.com/beginners-guide-to-french-macarons/