Mini Key Lime Cheesecakes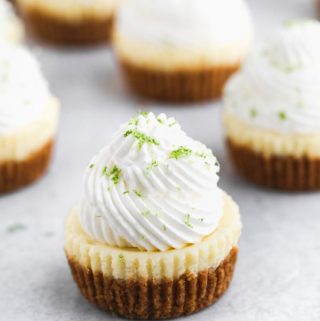 Created By:
Browned Butter Blondie
8 full sheets graham crackers or 1 cup graham cracker crumbs
4 TBSP unsalted butter, melted
3 TBSP granulated sugar
12 ounces regular cream cheese, room temperature
¼ cup full fat greek yogurt (or regular yogurt)
½ cup granulated sugar
3½ TBSP key lime juice
2 tsp key lime zest, plus more for garnish
1 tsp vanilla
1 large egg, room temperature
1 cup heavy whipping cream
1 TBSP confectioner's sugar
Preheat oven to 350 degrees.
Line a 12 cavity muffin pan with paper liners. Set aside.
Process graham crackers in a food processor by pulsing repeatedly until you have fine crumbs.
Place the crumbs in a medium sized bowl and add melted butter and sugar.
Stir with a fork to combine.
Distribute the graham cracker crumbs evenly between the 12 muffin cavities and then press each one down firmly until top is set and level. I use the back of a small measuring cup to press each one down.
Bake for 6-8 minutes and then remove from oven to cool slightly.
In the bowl of a stand mixer fitted with the paddle attachment, beat the softened cream cheese until smooth. About 1 minute.
Add the greek yogurt and sugar and mix on medium low speed until combined.
Add the juice, zest and vanilla and mix until fully combined. Stop the mixer to scrape down the sides of the bowl as needed.
Add the egg and mix on low speed until incorporated.
Using a small measuring cup or spoon, carefully distribute the filling amongst the 12 cavities of the muffin pan.
Return the pan to oven and bake for 18 minutes or until the tops of the cheesecakes are set.
Carefully remove the pan from oven and allow to cool on a wire rack for one hour at room temperature.
Transfer to refrigerator to cool for 3 hours or overnight.
Once chilled, remove each mini cheesecake from the pan and carefully take off the paper liner.
Pipe the freshly whipped cream on to the top of each mini cheesecake.
Sprinkle with freshly grated lime zest if desired.
In the bowl of a stand mixer fitted with a whisk attachment, whisk together the heavy whipping cream and confectioner's sugar on high speed until soft peaks form. Remove the bowl from mixer and whisk by hand for an additional 12-15 strokes.
Transfer whipped cream to a pastry bag fitted with a large star tip.
Store leftover cheesecakes tightly wrapped in the refrigerator for up to 5 days.
Recipe by
Browned Butter Blondie
at https://brownedbutterblondie.com/mini-key-lime-cheesecakes/