Gluten Free Banana Cupcakes with Cream Cheese Frosting and Blackberry Curd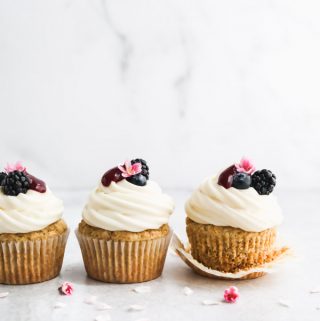 Created By:
Browned Butter Blondie
2 cups Bobs Red Mill 1 to 1 Gluten Free Baking Flour
1 tsp baking soda
½ tsp baking powder
½ tsp salt
1 tsp cinnamon
⅛ tsp nutmeg
1¼ cups mashed banana (from about 3 large overripe bananas)
½ cup light brown sugar
½ cup granulated sugar
8 TBSP (1 stick) unsalted butter, room temperature
1 large egg, room temperature
1 large egg yolk, room temperature
1½ tsp vanilla
¼ cup full fat yogurt, room temperature
½ cup buttermilk, room temperature
4 TBSP unsalted butter, room temperature
8 TBSP cream cheese, room temperature
1 tsp vanilla
⅛ tsp salt
3¼ cups confectioner's sugar, sifted
2 cups frozen blackberries
½ cup water
Zest and juice of one Meyer lemon
1 egg plus one egg yolk, gently whisked
⅓ cup granulated sugar
1 TBSP cornstarch
2 TSBP butter, room temperature
Preheat oven to 350 degrees. Line a cupcake pan with paper liners. Set aside.
In a medium size bowl, combine flour, baking soda, baking powder, salt, cinnamon and nutmeg.
Whisk to combine and set aside.
In the bowl of a stand mixer, mix together sugars and butter on medium high speed until light and fluffy. About 2 minutes.
Add eggs one at a time, vanilla and yogurt and mix until well combined.
With mixer on low, add mashed banana, pausing to scrape down sides of bowl if needed.
With mixer on low speed, gradually add flour and buttermilk by alternating, beginning and ending with flour. Do not over mix.
Scoop batter into prepared cupcake pan and bake for 15-18 minutes or until tops are golden brown and a toothpick inserted in the center comes out clean.
Remove from oven and cool completely on a wire rack before frosting and decorating with berries.
In the bowl of a stand mixer fitted with the paddle attachment, cream together butter and cream cheese until light and fluffy, about 2 minutes.
Add vanilla and salt and mix on low speed to combine.
Slowly add sifted confectioner's sugar with mixer on low speed until incorporated. Increase speed to high for 30 seconds until frosting is light and smooth.
Pipe frosting onto cupcakes or use an offset spatula to frost cupcakes.
Place frozen blackberries and lemon zest in a small saucepan with ½ cup water. Stir over low heat and cook until the berries are soft enough to be broken up with a spoon. This should take about 10 minutes.
Remove pan from heat and strain berries over a fine mesh strainer into a medium sized bowl. Use the back of a spoon to push the berries through, extracting as much juice as possible. Set the juice aside.
In a separate, clean saucepan combine butter, sugar, lemon juice and cornstarch. Stir over low heat until incorporated. Add the eggs right away and continue to stir until butter melts completely.
Once butter has melted, add the blackberry juice and increase heat to medium low. Stirring often, cook mixture until it begins to thicken. The curd should coat the back of a spoon when it's ready, about 8-10 minutes.
Pour curd into a bowl and cover with plastic wrap.
Place in refrigerator to chill.
Stir gently before adding to tops of cupcakes.
Store left over cupcakes tightly sealed in an airtight container in refrigerator for up to 5 days.
Cupcake centers can also be filled with blackberry curd before frosting if desired.
Recipe by
Browned Butter Blondie
at https://brownedbutterblondie.com/gluten-free-banana-cupcakes-with-cream-cheese-frosting/