Browned Butter Vanilla Bean Madeleines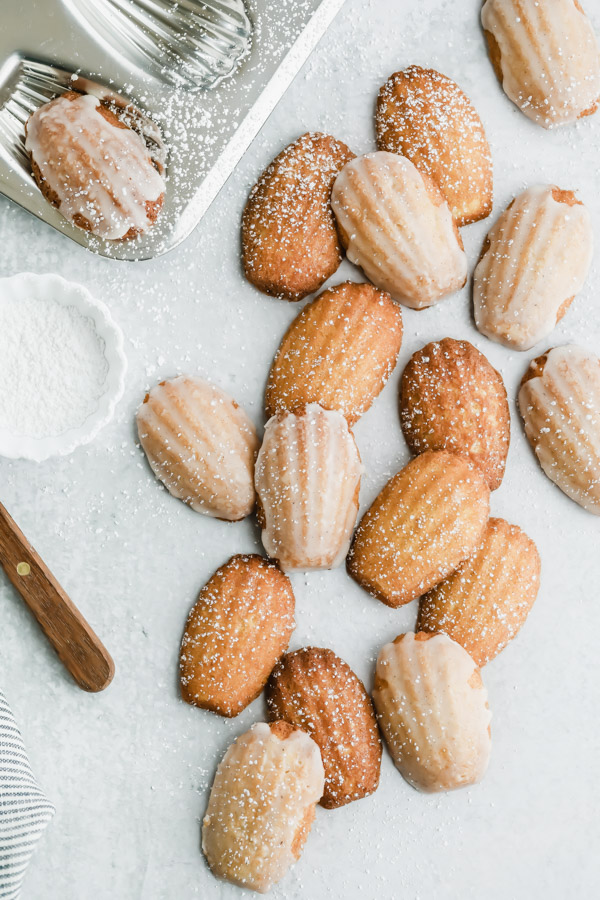 Created By:
Browned Butter Blondie
7 TBSP unsalted butter, browned
2 eggs, room temperature
⅔ cup granulated sugar
1 TBSP whole milk
1 tsp vanilla bean paste (I use Taylor & Colledge Organic Vanilla Bean Paste)
½ cup plus 2 TBSP all purpose flour
½ tsp salt
½ tsp baking powder
¾ cup confectioner's sugar
2-3 TBSP whole milk
½ TBSP vanilla bean paste (I use Taylor & Colledge Organic Vanilla Bean Paste)
In a small saucepan over medium heat, melt the butter. Once melted turn the heat up to medium high allow the butter to brown while stirring often. Be careful not to burn the butter and remove from heat once small brown bits of the butter fall to the bottom of the saucepan.
This should take about 4-5 minutes.
Pour browned butter into a small bowl.
Set aside to cool slightly.
In the bowl of a stand mixer, beat together sugar and eggs on high until thick and pale. About 4 minutes.
Add milk and vanilla bean paste and mix on low until incorporated.
In a separate bowl, combine flour, salt and baking powder.
Whisk to combine.
Slowly add flour mixture to the egg mixture and mix on low until combined.
Remove from mixer and fold in browned butter with a spatula.
Cover bowl with wrap and refrigerate for 3 hours or overnight.
Once dough is chilled, preheat oven to 375 degrees.
Spray non stick madeleine pan generously with non-stick cooking spray.
Place one tablespoon of batter into the deepest part of each well.
Do not spread or flatten batter.
Bake on center rack for 10 minutes. Cookies will puff up in the center and edges should be golden brown.
Cool on a baking rack before drizzling with glaze.
Combine sugar, milk and vanilla bean paste in a small bowl and whisk to combine. Add more milk 1 teaspoon at a time if glaze is too stiff. Drizzle over tops of madeleines and allow to set before serving.
Recipe by
Browned Butter Blondie
at https://brownedbutterblondie.com/browned-butter-vanilla-bean-madeleines/