Chai Spice Pecan Sugar Cookies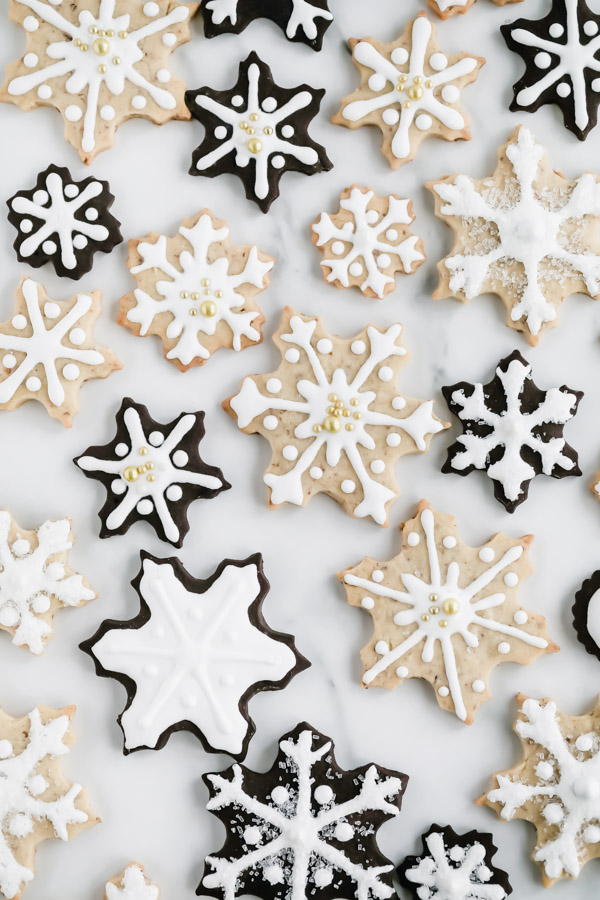 Created By:
Browned Butter Blondie
2½ cups all purpose flour
¾ tsp baking powder
¼ tsp salt
¼ tsp cinnamon
¼ tsp ginger
¼ cardamom
¼ tsp nutmeg
¼ tsp cloves
1 cup (2 sticks) unsalted butter, room temperature
1 cup granulated sugar
1 large egg, room temperature
1½ tsp vanilla extract
⅓ cup chopped candied pecans (I use candied pecans from Sante Nuts)
4 cups confectioner's sugar, sifted
3 TBSP meringue powder
8-10 TBSP water, room temperature
In a medium bowl, whisk together flour, baking powder, salt and chai spices (cinnamon, ginger, cardamom, nutmeg, cloves). Set aside.
In the bowl of a stand mixer fitted with a paddle attachment, cream butter and sugar together on high speed for 2 minutes, until smooth and fluffy.
Add egg and vanilla and beat for 60 seconds on high.
Add the dry ingredients in two batches and mix on low until combined. Do not over mix.
Remove from mixer and fold in chopped pecans.
Remove dough onto lightly floured surface and divide into two equal parts.
Using a lightly floured rolling pin, roll the dough halves into ¼ inch thick rectangular shapes.
Place the rolled dough on parchment lined cookie sheets and refrigerate for 1-2 hours or overnight.
Preheat oven to 350 degrees.
Remove chilled dough from refrigerator and cut into desired shapes.
Gather the remaining dough into a ball and re-roll into ¼ inch thick rectangle and cut more shapes.
Repeat until dough is all used.
Place cookies 2 inches apart on parchment lined baking sheets.
Bake 10-12 minutes, rotating the pan halfway through.
Cookie will be lightly golden brown on the edges.
Allow cookies to cool on the pan for 5 minutes and then transfer to a wire rack to cool completely before decorating.
Place the confectioner's sugar, meringue powder and water in the bowl of a stand mixer with whisk attachment.
Place mixer on low until confectioner's sugar is incorporated.
Turn mixer up to high for 5-6 minutes.
Add more water if too thick or more confectioner's sugar if too thin.
Icing should fall from the whisk attachment onto the icing below in the bowl and smooth out in less than 10 seconds.
Continue adding water or sugar until desired consistency is reached.
Place icing in piping bags or bottles for decorating cookies.
Once cookie are cool, using piping bags to decorate cookies as desired.
Using a small icing tip such Wilton #5, outline and flood the cookie with icing.
For more detail work, use a smaller tip such as Wilton #1.
Sprinkle with sanding sugars or decorate with sprinkles.
Set cookies aside to set or place in refrigerator to set faster.
For best results, roll cookie dough onto a silpat baking mat or parchment paper. This will make it easier to transfer the mat or paper onto a cookie sheet before placing dough in the refrigerator to chill.

Cookies will keep at room temperature or in refrigerator for up to one week. For best results, do not freeze decorated cookies. Undecorated cookies or cookie dough may be frozen until ready to use.
Recipe by
Browned Butter Blondie
at https://brownedbutterblondie.com/chai-spice-pecan-sugar-cookies/